These egg rolls are made with ground turkey and are absolutely yummy!

I'll never forget the summer I went to stay with my cousin and aunt in the Netherlands one summer.
Being a tween in Europe is very different than here in the States, so we had quite the adventure!
Also, it's where I learned how to make egg rolls.
My aunt is from Thailand, and if my cousin and I wanted to eat, we had to cook.
I learned a lot that summer about everything from the correct way to cut vegetables, to how to make cheap ramen noodles into a true delicacy.

Oh, and egg rolls. I learned how to roll them, all about the flavors to add, and what to do when they bust open and all of the filling comes out in the wok. That happens sometimes when you're a novice.
Egg rolls have become my family's absolute favorite thing that I cook in the kitchen.
Although egg rolls really aren't that difficult to make, I tend to only pull out my rolling skills for special occasions and celebrations.
What Do you need to make Egg rolls with Ground Turkey?
Believe it or not, you don't need a lot of ingredients to make egg rolls with ground turkey! Of course you need ground turkey.
Then, depending on how I feel, I might get a head of cabbage to chop up. Normally, though, I'll just pick up a bag of cabbage slaw from the produce section at the store.
You'll need egg roll wrappers which can also be found in the produce section of the store. They're normally with the plant based meat in the refrigerated area.
Soy sauce, sesame oil, garlic powder, salt, and pepper round out the ingredients you'll need to make these delicious egg rolls.
How To Adapt This Egg rolls with Ground Turkey Recipe
Once you have the basics down for making egg rolls, you can make them with any ingredient you want!
I love adding bean sprouts to mine, but they're not always available in the market when I go.
Instead of cabbage slaw, you can use broccoli slaw, or any other green you'd like!
One thing I HAVE to let you know is that my son is a super picky eater.
There is no way I can get him to eat cabbage. Unless, of course, it's wrapped and fried up into an egg roll! I'm sure it works with other vegetables, too!
Yield: 20 eggrolls
Egg Rolls with Ground Turkey
Absolutely delicious, these eggrolls with ground turkey are easy to make and will have your family begging you to make them for every special occasion!
Ingredients
1 lb. ground turkey
1 pack of eggroll wrappers
1 bag of tri-color shredded coleslaw
1/2 cup shredded carrots
1/2 cup bean sprouts (optional)
4 tablespoons soy sauce
2 tablespoons sesame oil
2 teaspoons garlic powder
salt and pepper to taste
1 cup of vegetable oil to fry eggrolls
Instructions
Brown the ground turkey in a wok.
When the turkey is thoroughly cooked, move it to a bowl.
Sauté the entire bag of cabbage slaw in the same wok.
Once the cabbage is soft, add the turkey back into the wok.
Season the mixture with soy sauce, sesame oil, garlic powder, salt, and pepper.
Put the seasoned mixture back in the bowl.
Open the bag of eggroll wrappers. Put one on a plate.
Place a spoonful of the mixture in the middle of the wrapper.
Pull the two sides of the wrapper to the middle, and the bottom to the top.
Roll the eggroll until there's just a bit of the wrapper left.
Dip your finger in water or a tiny bit of egg yolk to close the eggroll up.
Roll all of the other eggrolls up.
Heat the vegetable oil up.
Once the oil is hot, fry each eggroll up until the wrapper is nice and brown.
Enjoy hot or room temperature!
Notes
Although I put measurements in for the soy sauce and other seasonings, that's just a place to start! Taste the mixture and add more to taste!
Nutrition Information:
Yield:
10
Serving Size:
2
Amount Per Serving: Calories: 428Total Fat: 37gSaturated Fat: 5gTrans Fat: 1gUnsaturated Fat: 29gCholesterol: 51mgSodium: 532mgCarbohydrates: 12gFiber: 1gSugar: 2gProtein: 14g
Other posts you might like:
Easy Sheet Pan Dinner Even Your Tween Can Make
Hearty Ground Turkey and Greens
How To Make Turkey Bacon in the Microwave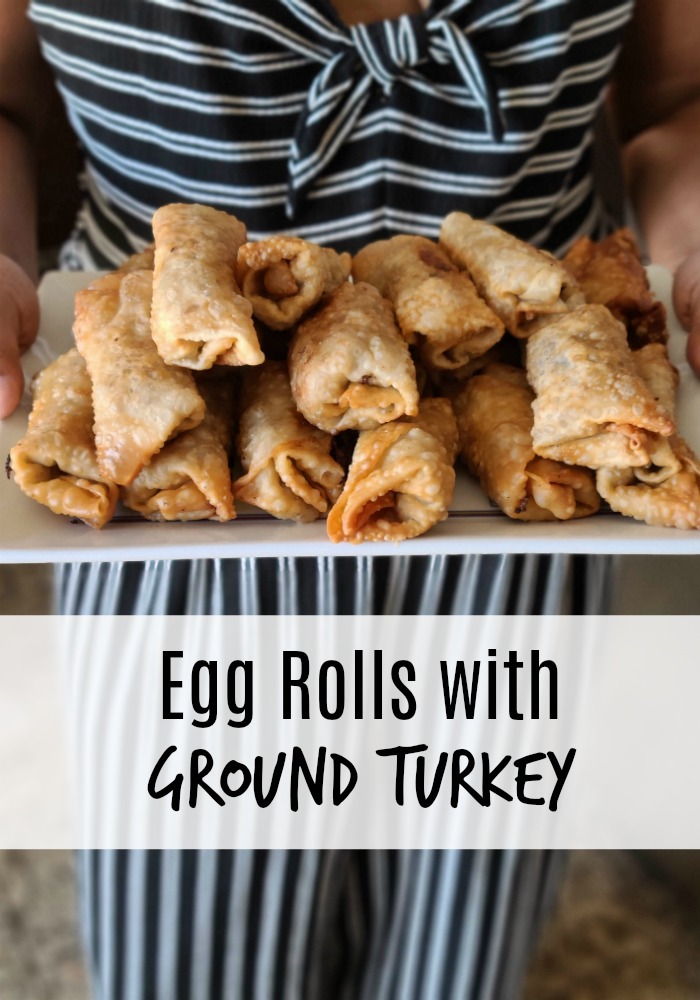 The post Quick and Easy Egg Rolls with Ground Turkey appeared first on Mama Knows It All.