Monday is typically pizza night at our house.
There's something about the first day back to school and work after the weekend that pushed dinner waaaaay down the priorities list.
The thing is, Terrence is kind of tired of pizza.
Even though it's my favorite food in the entire world, I am, too.
So now I'm experimenting with meals that take minimum effort, but have maximum impact.
Using shortcuts like Johnsonville Sausage Beef Brats, which are packed with flavor, definitely help.
Sure, these bad boys would taste delicious grilled and eaten on a bun, but then my husband wouldn't think I toiled over the stove for hours.
This Monday I thought I'd make a Spanish Tortilla.
I'd seen a recipe that looked good one of my Martha Stewart Living magazines, but of course, the night I needed it, I couldn't find it!
I tried to recreate the recipe the best that I could from my memory. Yeah, I ended up with a frittata. I'll never forget the first time I learned how to make a frittata from my friend Christine, and neither will my family.
There was a time in my life when I made frittatas just about every single week! I took a break, and haven't made them nearly enough for Terrence, so he's still enchanted by them. Ha!
I've experimented with a ton of different ingredients, so adding the Beef Brats seemed like a good idea.
I'll take it that Terrence really enjoyed the Johnsonville sausage that I stuffed into tonight's Spanish Tortilla frittata because he said, "You're really good at these fritter things."
And with that, if you think I'm over here dusting off my shoulders…you're right.
What Ingredients Do You Need To Make A Frittata?
If you want to try out this "fritter thing", you need to start with a package of Johnsonville Beef Brats. Then add green and red peppers, eggs, cheese, and 20 minutes of prep time.
In less than an hour, you'll be gnoshing on not pizza, not a Spanish Tortilla, but a yummy, fresh frittata.
Sausage, Potatoes, and Peppers Frittata
This easy to make frittata with sausage, peppers, and potatoes is perfect for breakfast or dinner!
Ingredients
1 package of Johnsonville Beef Brats
1 potato
6 eggs
1 cup cheese
3/4 cup half & half
1/2 green pepper chopped
1/2 red pepper chopped
1 clove garlic
Olive oil
Salt and pepper to taste
Instructions
Preheat the oven to 350 degrees.
Slice the potato into thin pieces and heat in a skillet with olive oil and garlic until soft.
Remove from pan and place on the bottom of a pie dish.
Chop the Johnsonville Beef Brats into small pieces and sauté in olive oil until fully heated throughout (about 5 minutes). Remove sausage from pan.
Add the green and red peppers into the pan and cook until soft.
Mix the eggs, half & half and cheese together in a bowl. Add the peppers and sausage.
Pour the mixture in the pie dish over the potatoes.
Put the dish in the oven and bake for about 25 – 30 minutes or until an inserted knife comes out clean.
Nutrition Information:
Yield:
6
Serving Size:
1
Amount Per Serving: Calories: 275Total Fat: 20gSaturated Fat: 9gTrans Fat: 0gUnsaturated Fat: 9gCholesterol: 222mgSodium: 356mgCarbohydrates: 10gFiber: 1gSugar: 3gProtein: 14g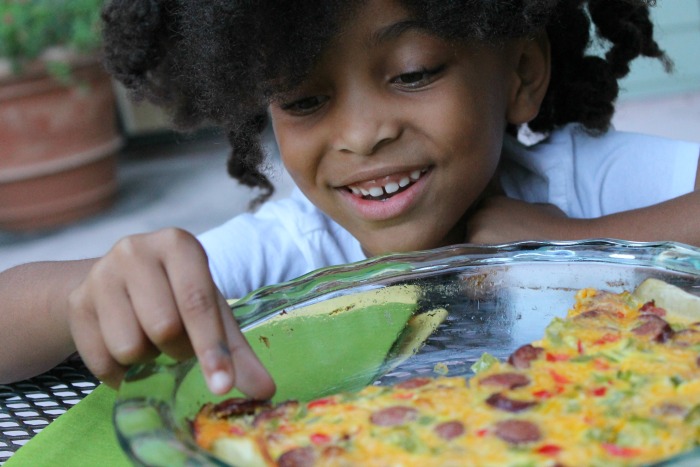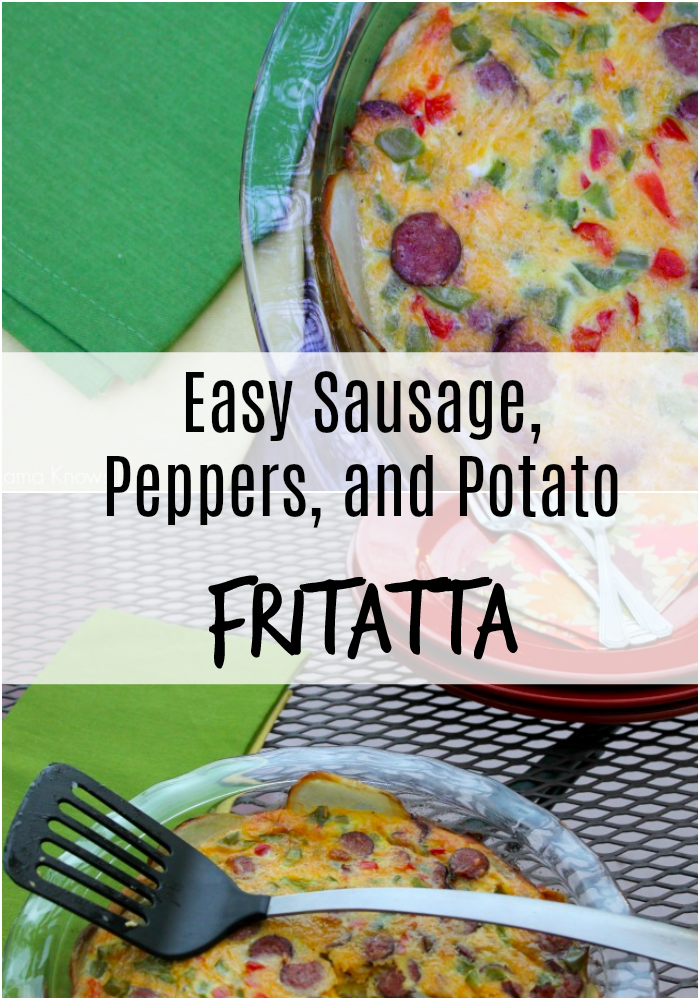 This post was originally published in 2014 and was sponsored by Johnsonville Sausage.
The post Potato, Sausage and Pepper Frittata appeared first on Mama Knows It All.